Business for South Africa welcomes President Ramaphosa's announcement this evening (Wednesday 17 June) of the enhanced level 3 regulations which will further lift restrictions on many economic activities.  We further wholeheartedly endorse the President's condemnation of violence against women and children and support his call for an end to femicide. We call on busines and all of civil society to join the national campaign to support the victims and combat this scourge of our society.
Business has supported the lockdown because it dramatically reduced the speed at which the virus spread, allowing us time to increase capacity in our healthcare systems so we can better deal with the coming surge of infections. We acknowledge the negative impact on lives and livelihoods from these restrictions.
The move to these enhanced level 3 regulations will allow more businesses to open, more people to work, and more services to be delivered to the public. Increased economic activity will heighten the risk of transmission and we repeat our call for each person in every workplace or social gathering to adhere to the health and hygiene protocols. We must all change our behaviour to protect not only ourselves, but our families, colleagues, friends, and communities. We are responsible for protecting them.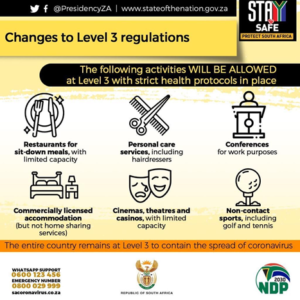 As business we continue to call for evidence-based interventions that balance health, economic recovery, and societal impact. We look forward to examining the detail of enhanced level 3 regulations.
FOLLOW US ON SOCIAL MEDIA
twitter.com/businessforsa
https://www.facebook.com/Business-for-SA-110191343959451/
https://www.linkedin.com/company/businessforsa