There can be no "return to normal" until a significant proportion of the population is fully vaccinated. Vaccines reduce severe illness, hospitalisation and death amongst those who do get Covid-19. In our view, if we don't dramatically improve the vaccination rate, we risk overburdening the health system again and forcing South Africa to consider the harsh lockdown restrictions that harm the economy, jobs and livelihoods. Vaccination can help prevent this.
Therefore Business for South Arica and many others have issued a call for all employers to consider introducing vaccine mandates in the workplace as one of the ways to both protect staff, customers and suppliers, and to drive up the overall vaccination rate.
As has been the case in many other countries, momentum for mandates is building across society. Social partners at Nedlac, including COSATU, are just some of the many structures and organisations now supporting vaccine mandates. Many businesses have already committed to implementing mandatory vaccination policies, after following the prescribed process. These include:
Several educational institutions have also embarked on this process and have announced mandatory policies effective early 2022, including:
There is a set process to be followed by all employers. In June 2021, the Department of Employment and Labour gazetted a new directive in terms of the Occupational Health & Safety Act (OHS) (see here) relating to vaccination in the workplace, which sets out the steps and processes employers must follow to introduce mandatory vaccination policies in their workplaces.
Below we provide a high-level outline of what should be considered, drawn from the experience of companies that have embarked on the process. We also provide links to practical and public resources ranging from legal opinions, through to step-by-step legal guides and links to videos where top company leadership, health and legal experts explain the practicalities and the case for mandatory vaccination in the workplace.
2. Rationale – what to consider
While all employers will need to follow the process prescribed in law, from a strategic perspective, there are several legal, strategic and ethical considerations that should be considered, as the situation for each employer will be different.
The following considerations have been distilled from the practical experiences of several large South African companies, and should be useful for any employer.
Balance the rights of all employees and the employer
Employers have a legal obligation to provide a safe workplace
All employees have rights (not just unvaccinated ones)
Rights are not absolute (can be limited in broader public/societal interest)
Unfair discrimination avoided through objections/exemptions process, reasonable accommodation
Strategic, risk & operational considerations
Alignment with organisational culture, values and purpose
Employers have a moral obligation to provide a safe working environment for all employees
COVID-19 vaccines are effective and safe
Sufficient access and supply of vaccines: but hesitancy persists, particularly in younger age groups
Consideration of operational, organisational and reputational risks and benefits
Virus shown to spread slower in populations that are majority vaccinated
Policy implementation principles
Mutual respect
Balance the rights of all employees
Reasonable accommodation
Proactive engagement
Must have a clear rationale
3. Steps to implementation
Jacqui Reed, employment lawyer at Herbert Smith Freehills, has put together a clear step-by-step guide to implementation, which can be found here.
A summary of the process to implement mandatory vaccinations in the workplace is as follows: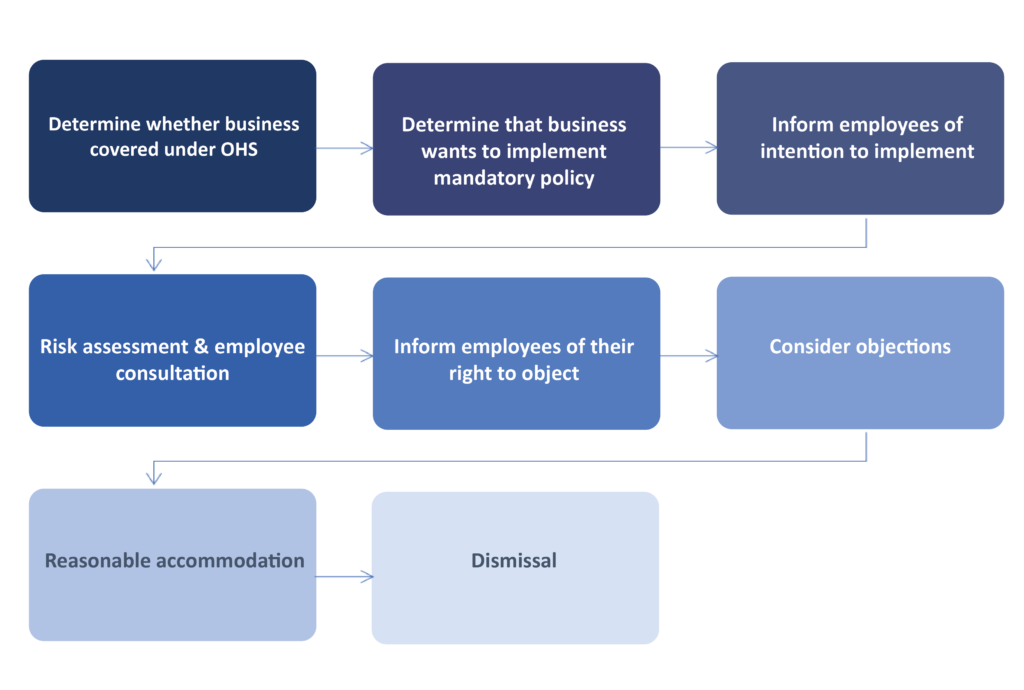 4. Useful resources summary and links
Legalities
Presentation: Constitutional and legal implications, including a summary of the OHS guidelines (Halton Cheadle) can be downloaded here.
OHS Directive: The full OHS directive can be downloaded here
Legal Opinion: Labour and constitutional lawyer Halton Cheadle, who is a partner at BCHC (and currently contracted to advise and draft COVID-19 directions for the Minister and the Department of Employment and Labour) has prepared a detailed legal opinion for B4SA on the legalities of vaccine mandates, which can be downloaded here
Webinars with experts
B4SA webinar recording: Introduction to vaccination mandates, October 2021, with a panel of experts and business leaders to discuss:

The legalities of mandatory vaccination
The official position of organised business
Explore insights generated by Discovery, Sanlam, and Life Healthcare, which have all adopted mandatory vaccination policies
B4SA webinar recording: Health, legal & practical implications, December 2021, in which a panel of renowned experts and corporate leaders explain:

The position of organised business
Legalities of vaccine mandates and access restrictions
The medical case for vaccination
The practical experience of two companies, law firm ENSafrica and Discovery, which are currently implementing mandates
Implementation
Step-by-step guide to implementing mandatory vaccination policy can be downloaded here (Herbert Smith Freehills)
Useful presentations and data
Presentation: Discovery mandatory vaccination policy considerations, October 2021 Download here
Presentation: Discovery mandatory vaccination policy update and impact on vaccination rates, December 2021 Download here
Useful articles and media links
All employers have an obligation to review their existing policies in relation to the OHS directive, particularly given widespread access to vaccines
Legally, every business must ensure a safe workplace for all employees
Every business is recommended to take its own legal advice to ensure policies are relevant to its circumstances and industry
By working collaboratively, we can substantially increase the vaccination rate and accelerate the reopening of the rest of the economy, whilst protecting against the impact of current and future waves for both businesses and individuals, as well as society at large
The information provided above is from public resources and is intended as a guide to decision-making
Each employer will however need to make its own determination based on its circumstances
Acknowledgements
With thanks to Discovery, Herbert Smith Freehills, ENSafrica, BCHC, Sanlam, Life Healthcare, University of Johannesburg, and BUSA