Business for South Africa (B4SA) is an alliance of South African business leaders working with the South African government, and other social partners, to step up, lead and help create and deliver sustainable solutions for South Africa. B4SA's objective is to mobilise business resources and capacity to work alongside and in support of government to address bottlenecks impacting economic growth and social development in South Africa.  
Government and B4SA are focusing on sectors of the economy that require urgent intervention; B4SA has formed a collective of business expertise and resources in an effort to mobilise teams to help revitalise important economic imperatives. B4SA aims to be part of the solution to the national economic crisis, and to ensure regular and informative stakeholder engagement and feedback.
Business for South Africa (B4SA) is an alliance of South African volunteers working with the South African government, and other social partners, as well as various stakeholders to mobilise business resources and capacity to combat the Covid-19 pandemic. In its current form, B4SA is focused on supporting the government-led national vaccine programme with an ultimate objective of reducing, and ultimately removing, the impacts of the pandemic and returning to a fully functional economy.
To achieve this, B4SA has established numerous working groups that complement government workstreams with the primary objective of ensuring the expedient roll out of the vaccinations to the people of South Africa. This is being done by providing additional capacity to jointly problem solve and debottleneck issues that obstruct the vaccine rollout. B4SA also communicates relevant information and critical decisions to its constituencies timeously and transparently.
36 669 717
VACCINES ADMINISTERED
1. Introduction There can be no "return to normal" until a significant proportion of the population is fully vaccinated. Vaccines reduce severe illness, hospitalisation and […]
Dear B4SA and business colleaguesAs the year draws to a close, I would like to take this opportunity to thank each and every one of […]
Business has issued a public call for vaccine mandates in the workplace and for the imposition of public access restrictions for the unvaccinated. This echoes […]
Workgroups have been established and a Project Management Office (PMO) capability has been created to optimally coordinate activities between various working groups. These working groups have been organised into energy, health, labour market, economic, communication and legal workstreams, and are working to address the different challenges faced by business and our country across these focus areas.
"…to address the different challenges faced by business and our country across these focus areas."
News & Insights
South African CEOs from over 130 companies pledge commitment to building the country

Johannesburg, 27 July 2023: CEOs from over 115 of South Africa's leading corporations have signed a pledge underpinning their collective belief in South Africa, and their determination to assist in realising its potential. The pledge states: "As South African business leaders, we firmly... Read more
Numbers have been updated on 23/08/2023

1. Does the long-term wearing of masks have any negative impact on one's health?
Answer: Prolonged use of any face mask has not been shown to cause carbon dioxide toxicity or lack of adequate oxygen in healthy people. Healthcare workers routinely wear masks for prolonged periods while performing their duties.
Cloth masks provide an additional layer of protection by reducing the number of microorganisms that a person releases into the air. Mass mask wearing will ensure that fewer potential viral droplets are released into the air. Wearing a mask reduces the risk that someone will be exposed to the virus.
2. Why must bodies be wrapped in plastic bags?
Answer: The human remains of a person who has died from coronavirus are considered contagious and should be kept only in designated mortuaries. Under no circumstances shall the human remains be directly handled, whether for aesthetic, hygiene preparations, cultural or religious reasons. Human remains shall be placed in transparent leak-proof double body bags and sealed. A third non-transparent and unsealed bag must be added when the body is moved to the mortuary. The third bag should have handles and an appropriate BIOHAZARD warning tag written "Hazard Group 4 Pathogens".
No one is allowed to exhume a body unless they have permission from the relevant authorities to do so. If someone wants to exhume a body for any reason it must be done with permission to ensure everyone's safety.
3. Myth: Lockdown measures deprive people of their freedoms and are in keeping with an authoritarian regime.
Answer: The current measures are temporary and have been enacted to protect our nation and her people. Our freedoms will never be at risk and are protected by the Constitution, Bill of Rights and our commitment to the rule of law and democracy and freedom.
4. Myth: Vaccines are unsafe and normal safety protocols have been circumvented to fast track their authorisation for use.
Answer: The fast development and approval of vaccines is a great human feat worthy of celebration. This was possible because we have learnt over many decades how to develop and test vaccines, and we were able to take those lessons and challenge ourselves to produce a vaccine much quicker.
No step in the development, testing or ratification of the COVID-19 vaccines has been skipped. The world was able to develop vaccines fast because scientists and governments around the world collaborated in a manner that has never been achieved before pooling resources and information to ensure that everyone can contribute to the knowledge. The socio-economic devastation the virus is causing is what has motivated developers to move with urgency without compromising on quality standards.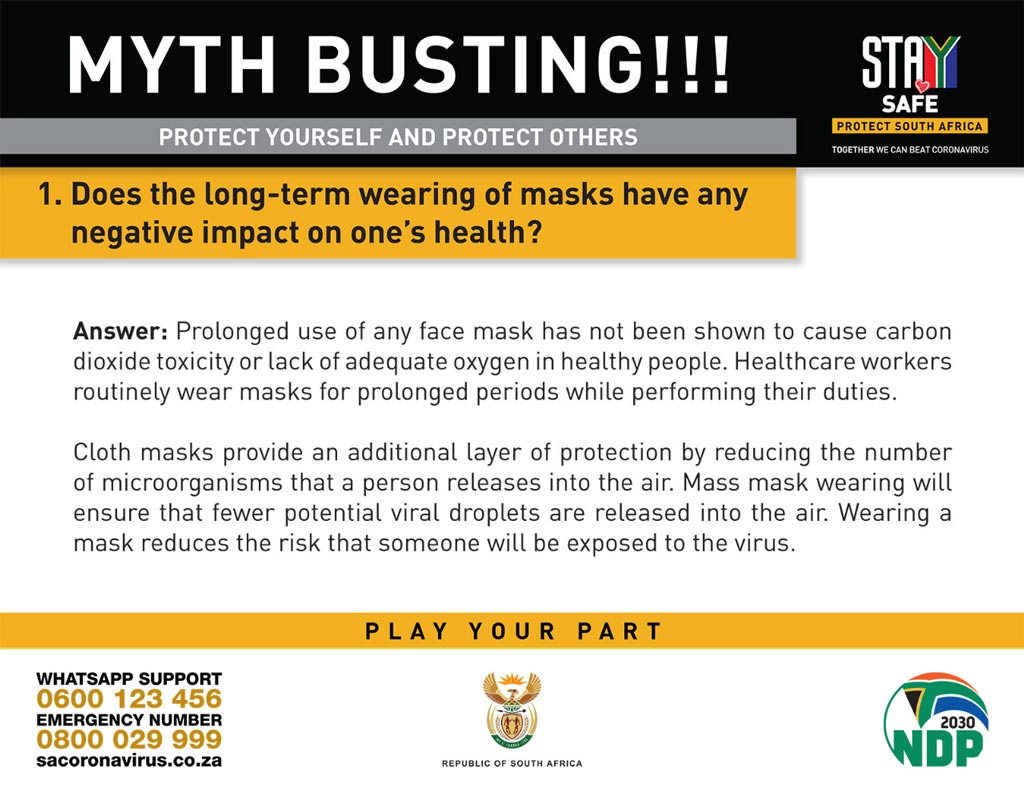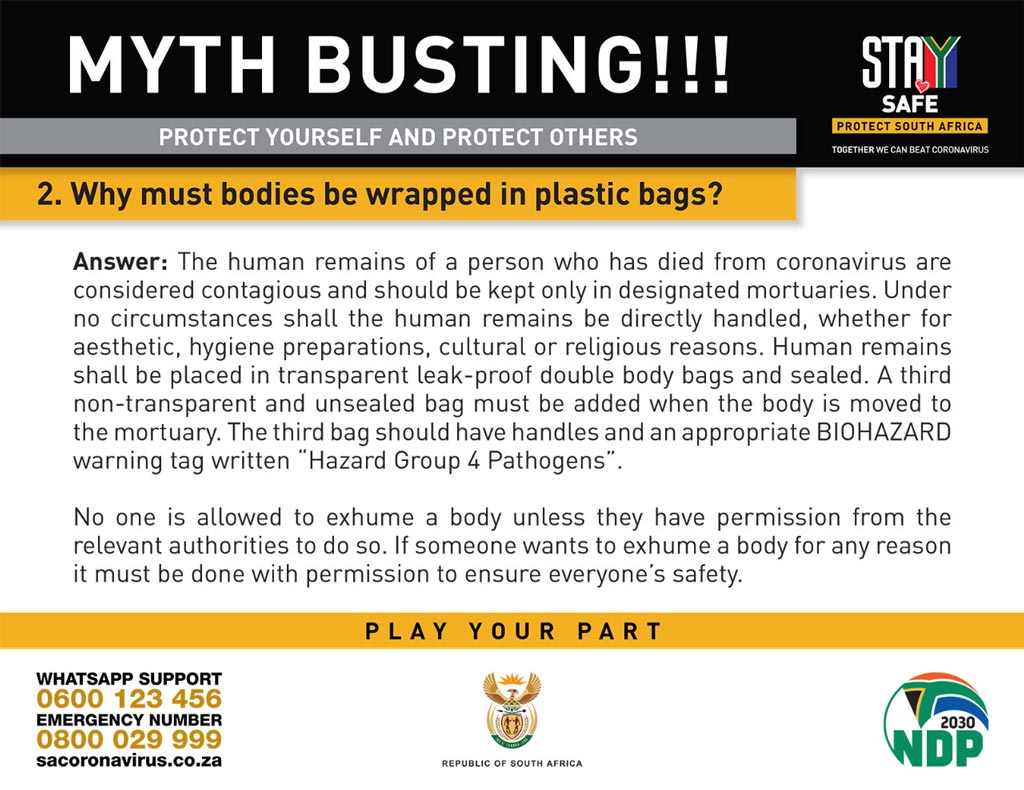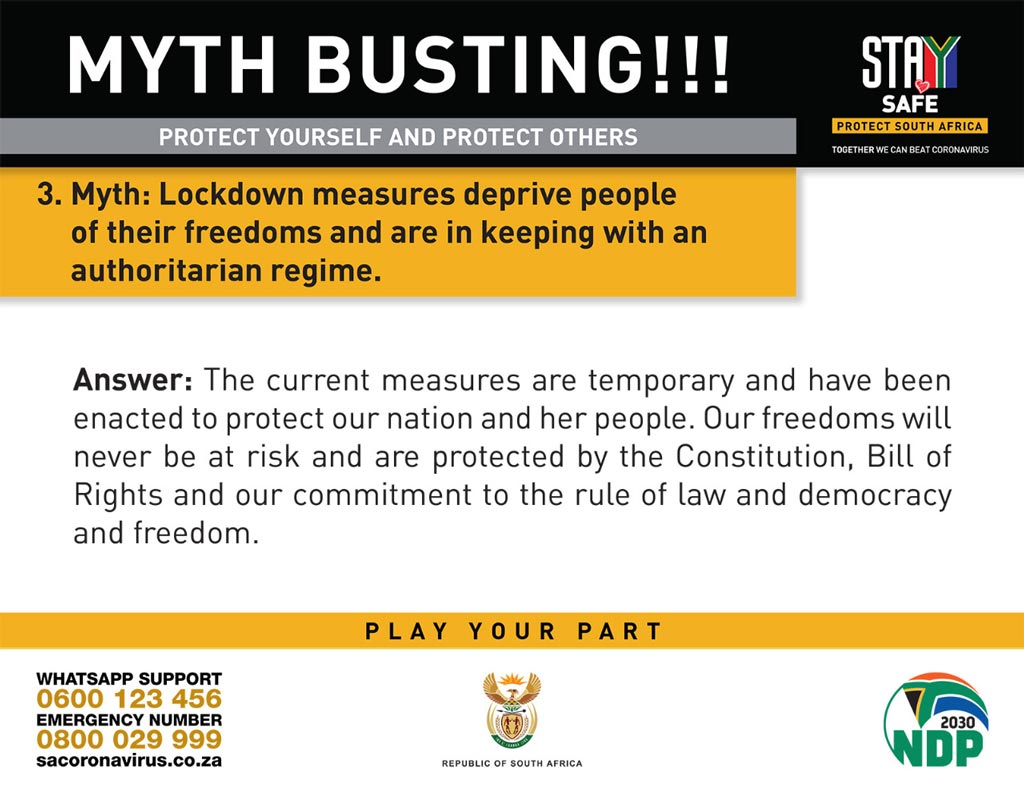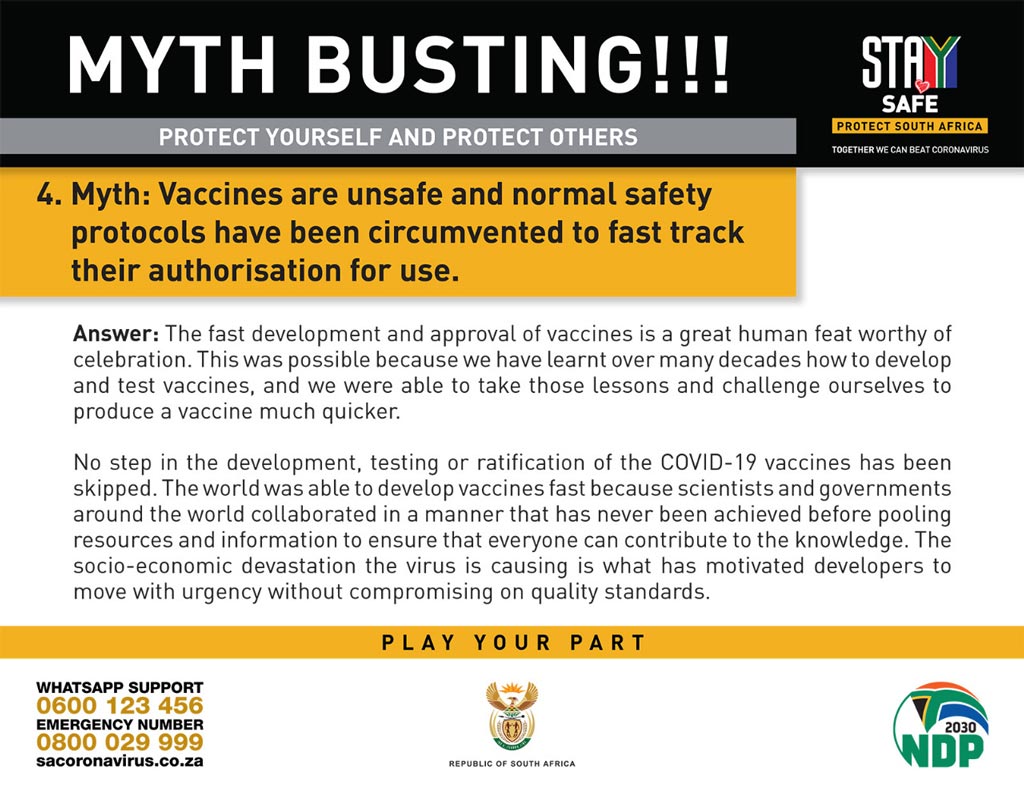 Business unreservedly supports the position that is being articulated by the Presidency, and the recently established National Command Council. It is working in a spirit of close collaboration and alignment with the National Departments of Health, Employment and Labour, and Trade and Industry, as well as NEDLAC.
THE PRIORITY
To share best practice and ensure an enhanced understanding of the pandemic, while implementing practical measures among all constituents to mitigate risk and financial hardships caused by this global catastrophe.

EDUCATION AND UPDATES
Learn more about COVID-19 and obtain all the latest news: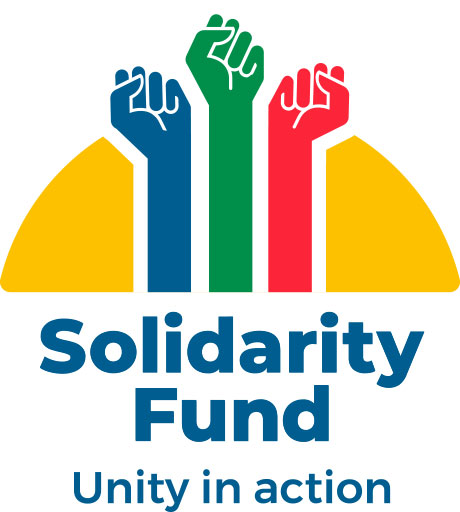 SOLIDARITY FUND
Corporate members of the various bodies have also enthusiastically endorsed the Solidarity Fund to drive social cohesion, to make a donation:

GOVERNMENT MESSAGES
GCIS Covid-19 content is now available in all official languages
Sign up to our mailing list
Stay up to date with the latest news from Business for SA. Join our mailing list.
We have embarked upon a collaborative journey between South African businesses and SA government - to share best practice, assist with expertise, reduce risk wherever possible, and implement practical measures to ease some of the challenges we face in our country.