THE MANUFACTURING CIRCLE CALLS FOR SECTOR-WIDE PARTICIPATION IN COVID-19 HEALTH, SAFETY AND HYGIENE PROTOCOLS COMPLIANCE CAMPAIGN
Manufacturing in South Africa continues to be adversely affected by the uncertainty surrounding the resumption of economic activity.
The Manufacturing Circle is calling on all small, medium, micro-enterprises, and large manufacturing firms to participate in a sector-wide campaign to assess our readiness to re-enter the economy by ensuring that we each have well thought out compliance plans to implement  COVID 19 Health, Safety  and Hygiene Protocols.
While in full support of phase-two of the lockdown, the Manufacturing Circle recognises the need for manufacturers to assure government and our own workforces that we are ready and that we are fully cognisant that the health and well-being of our workers is directly linked to businesses productivity. Workplace readiness measures are directly linked to motivating for the manufacturing sector to resume operations as efficiently and effectively as possible.
To complete the survey, go to:
https://www.surveymonkey.com/r/ManufacturingCircle_COVID-19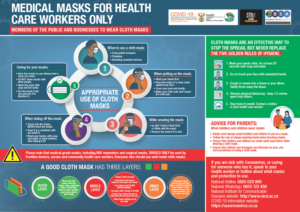 PLEASE PAY YOUR SMME SUPPLIERS
525 000 SMMEs and 6.6 MILLION JOBS AT RISK
The CEO Initiative, which was established in 2016 as a collaboration between government and business to address some of the most pressing challenges to the country's economic growth, has supported the call of Business for SA (B4SA) for all large companies to pay their SMME creditors.
To read the statement, please go to https://www.businessforsa.org/wp-content/uploads/2020/04/CEO-Initiative-Statement-Payment-of-SMEs-13-April-2020.pdf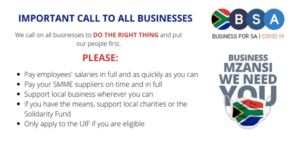 To find out about temporary relief for employers and employees through the UIF, go to https://www.businessforsa.org/c-19-ters-benefit-what-you-need-to-know/
WHATSAPP BOT FOR SMME COVID-19 SUPPORT
Save  087 250 2674 in your contacts
Open a new chat in WhatsApp
Type "Hi"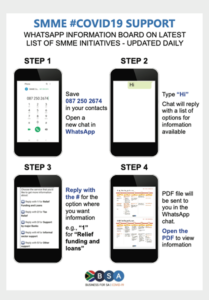 CONTRIBUTE TO THE SOLIDARITY FUND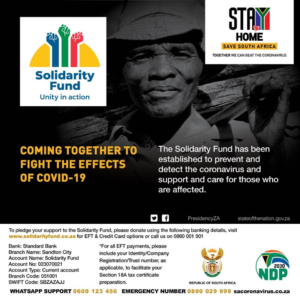 The purpose and mandate of the Solidarity Fund, announced by President Cyril Ramaphosa, is to mobilise and coordinate efforts and resources from all South Africans and the international community to assist the most vulnerable South Africans to deal with the impact of Covid19 and the consequences of measures intended to slow its rate of infection.
Details on how to donate are available on the Fund's website www.solidarityfund.co.za
 FOLLOW US ON SOCIAL MEDIA
https://twitter.com/businessforsa
https://www.facebook.com/Business-for-SA-110191343959451/
https://www.linkedin.com/company/businessforsa
OFFICIAL GOVERNMENT REGULATIONS AND GUIDELINES ON COVID-19
All official government regulations and guidelines are available at https://www.gov.za/coronavirus/guidelines