To find out about temporary relief for employers and employees through the UIF, go to https://www.businessforsa.org/c-19-ters-benefit-what-you-need-to-know/
GUIDELINES FOR PARTICIPATION IN THE SPAZA SHOPS AND GENERAL DEALERS SUPPORT SCHEME
The Department of Small Business Development has announced GUIDELINES FOR PARTICIPATION IN THE SPAZA SHOPS AND GENERAL DEALERS SUPPORT SCHEME IN PARTNERSHIP WITH NEDBANK which opened on Saturday, 18 April 2020.
To improve access to the Spaza shops and General Dealers Support Scheme, the Department of Small Business Development wishes to clarify the following:
The support scheme also benefits the general dealers/ traditional grocery stores in townships and villages with applicable licenses that are 100% owned by South Africans.
Whereas the local hardware stores are also beneficiaries under this scheme, their funding package is being finalised to ensure their ability to operate as their businesses have been included in the updated list of businesses offering essential services. The support for artisans (e.g.: plumbers, electricians etc.) whose services have been classified as essential will also be announced during the week.
The Department has finalised an Agreement with NEDBANK to support Spaza shops and general dealers on the back of the Khula Credit Guarantee Scheme of SEFA. Engagements to on-board the other banks continuing. Support through NEDBANK and its channels became available from Saturday, 18 April 2020.
Given their footprint, NEDBANK has availed the NEDBANK Desks that are found in all the BOXER stores countrywide to serve as additional service points.
To view the full guideline, please go to (https://www.businessforsa.org/guidelines-for-participation-in-the-spaza-shops-and-general-dealers-support-scheme/
WHATSAPP BOT FOR SMME COVID-19 SUPPORT
Save  087 250 2674 in your contacts
Open a new chat in WhatsApp
Type "Hi"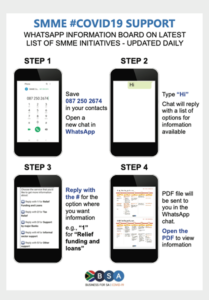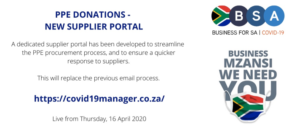 CONTRIBUTE TO THE SOLIDARITY FUND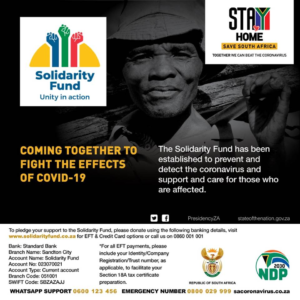 FOLLOW US ON SOCIAL MEDIA
https://twitter.com/businessforsa
https://www.facebook.com/Business-for-SA-110191343959451/
https://www.linkedin.com/company/businessforsa
OFFICIAL GOVERNMENT REGULATIONS AND GUIDELINES ON COVID – 19
All official government regulations and guidelines are available at https://www.gov.za/coronavirus/guidelines