Government ministers yesterday presented amendments to the current lockdown restrictions. Herewith is the summary of the amendments
Restaurants and takeaway establishments are to remain closed, and supermarkets open to sell essential goods.
The new rules emphasise that the transport of alcohol is not allowed except where required for industries producing certain essential products such as hand sanitisers, disinfectants, soap etc.
Essential goods will now include the hardware, components and supplies needed by trades people for emergency repairs at homes or for any project related to the provision of water, electricity or other essential service.
Trades necessary for emergency automobile repairs has been declared essential and similarly the components required for automobile repairs to vehicles is now an essential good.
In the same vein, trades necessary to render emergency repair work including locksmiths, glaziers, roof repairers, plumbers, electricians have been declared essential services.
Children may be able to move between parents / guardians provided certain conditions are met (for example, each parent is able to provide evidence of the relationship by producing a birth certificate or certified copy thereof)
A broader range of call centres may operate as an essential business by the addition of call centres necessary to provide debt restructuring for consumers of retailers and those providing access to short-term insurance policies
Cargo from ports of entry no longer need to be sanitised or disinfected in order to be transported to their intended destination.
Cargo currently at ports may be exported to decongest ports of entry.
Mines are to be permitted to resume operations up to a level of 50% of normal production, subject to strict preventative health and transportation rules.
All evictions from places of residence are prohibited, including informal residences and farm dwellings.
For a full list of the amendments, go to https://www.gov.za/speeches/minister-nkosazana-dlamini-zuma-coronavirus-covid-19-amended-regulations-16-apr-2020-0000
DEPARTMENT OF EMPLOYMENT AND LABOUR REVISES TERS UIF PROVISIONS
The Minister of Employment and Labour yesterday signed a set of amendments to the directive governing the Temporary Employee/Employer Relief Scheme (TERS) of the Unemployment Insurance Fund following further engagements at Nedlac. The amendments are designed to bring further clarity to the details of the scheme's structure approved by the Minister last week.
The revised directive clarifies that an employer may claim benefits in respect of employees who have taken annual leave during this period; and that the employer may retain these amounts, provided that it credits the employee with leave days proportionate to the value of the benefit in the future.
This means that it is not the case, as some legal opinions held, that there is a need to reinstate leave and putting employees on unpaid leave in order to claim.
B4SA welcomes this further clarification.
The directive also urges employers to pay employees the equivalent of their TERS benefits in advance should these not have been received by the employer on their payment date, and retain those amounts when the payment is received.
The department has assured B4SA that the basis for calculating employees' due benefits will be published on the UIF website soon.
A separate bank account is no longer required to receive TERS monies. Businesses will be able to use their existing bank accounts for this purpose.
WASH (water, sanitation and hygiene) IS THE FIRST LINE OF DEFENCE AGAINST COVID-19
The Business for South Africa (B4SA) COVID-19 Working Group on Water and Sanitation (B4SA Water), in collaboration with the National Business Initiative (NBI) is supporting the COVID-19 response efforts of the Department of Water and Sanitation (DWS) and of local municipalities. The launch of targeted emergency water response projects supports the overarching message that WASH (water, sanitation and hygiene) is the first line of defence against the coronavirus. The B4SA Water and NBI partnership is focusing on supporting handwashing facilities in dense urban areas, as well as supporting water access for handwashing in rural communities.
WASH is central to curbing the spread of COVID-19. Aligning with DWS and partnering closely with local municipalities and communities.
Gauteng is the most populous province in South Africa, the centre of the economy and the region most affected by COVID-19. Reducing the rate of infection in Gauteng is essential to protecting employees, vulnerable groups and the economy as whole.  With strong buy-in from local government, B4SA Water and the NBI have the ability to deploy solutions rapidly. B4SA Water and the NBI will be providing hand washing facilities in prioritised informal settlements, hostels and social housing commencing in the City of Ekurhuleni.
This initiative highlights the possibilities inherent in rapid response, multi-stakeholder approaches in combating COVID-19.
The B4SA Working Group on Water and Sanitation and the NBI continue to appeal for companies with applicable technology or with communities they wish to support to come forward and help make a difference now to flatten the COVID-19 curve.
For further information on these projects or on how to help please visit:
https://www.businessforsa.org/wash-water-sanitation-and-hygiene-is-the-first-line-of-defence-against-the-coronavirus/
or contact:
Jane Molony, B4SA: COVID19 Water & Sanitation Lead (jane.molony@pamsa.co.za) or Samantha Choles (sam@frogcomm.co.za)
Alex McNamara, NBI: Water Lead
(AlexM@nbi.org.za) or Mmaphefo Thwala (MmaphefoT@nbi.org.za). 
NEW PPE SUPPLIER PORTAL – URGENT NOTE TO ALL PPE SUPPLIERS
New PPE Supplier Portal – https://covid19manager.co.za/
Live from Thursday, 16 April 2020
Business for SA has received thousands of emails in response to our Business Mzansi, We Need You campaign, especially from local companies who are in the PPE supply chain.  Sourcing of PPE supplies locally, to complement imported stocks, is critical to ensuring that our frontline doctors and health care workers have ready access to the protective equipment needed to protect them.
We thank all suppliers for their contributions thus far; their efforts and commitment will go a long way in keeping our doctors, nurses and community health care workers productive and safe in the clinical setting.
Given the extent of response received, the Naspers team in collaboration with B4SA, has developed a dedicated supplier portal to facilitate and streamline the procurement process, and to ensure a quicker response to suppliers. This will replace the previous email process.
The new portal can be accessed via https://covid19manager.co.za/.
Suppliers will be able to directly upload their company and product information to the site, after which the procurement team will do the necessary validation, quality and due-diligence checks.  Companies that pass the validation process will then be loaded as formal suppliers.  Please note that approval is not a guarantee for procurement.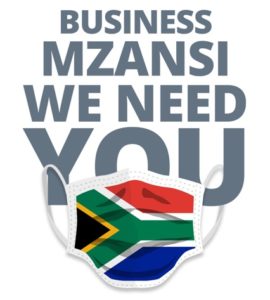 STAY HOME CAMPAIGN LOGO AVAILABLE IN ALL ELEVEN SOUTH AFRICAN LANGUAGES
MESSAGE FROM THE PRESIDENCY
Since the President declared a national lockdown from 26 March 2020, we have made significant progress towards containing the spread of the coronavirus. South Africans have come together across multiple divides, and have shown remarkable determination, patience and solidarity.
We are, however, only at the beginning of a long journey together. For us to succeed in our efforts and protect the lives of our fellow citizens, we will need all South Africans to comply with the restrictions and advice that we have put in place. We have created a national campaign to encourage continued solidarity and collective action to fight the coronavirus, which we have begun to roll out across the country this week. The campaign encourages people to "Stay Home, Save South Africa," and we hope that it will reach all of our people in their homes, through radio, television and print media, and in the stores and workplaces that they visit for essential purposes.
We need this campaign to be amplified widely, both to maintain national morale and to encourage South Africans to adhere to public health guidelines.
For this reason, we are calling on business, civil society and social partners to display the official campaign symbol (attached to this letter, and included below) in your stores and offices, to distribute it to your members, colleagues and employees, and to feature it in any advertising or additional campaigns that you create in the weeks and months to come.
We hope that it will become a shared national symbol that is seen everywhere, by everyone. We would be grateful for your help in making this possible, as a contribution to our collective effort.
To download the logos in all eleven South African languages, go to https://sacoronavirus.co.za/2020/04/13/stay-home-save-south-africa-downloadable-badges-images/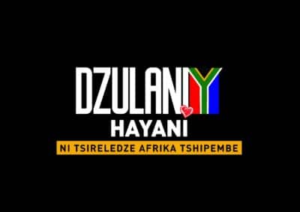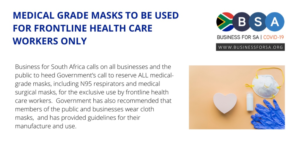 Please note that medical-grade masks, including N95 respirators and surgical masks, SHOULD ONLY be used by frontline doctors, nurses and community health care workers.  Everyone else should use well-made cloth masks.
Masks are an effective way to stop the spread. The DTIC has developed guidelines for the production of cloth masks by textile and CMT companies: http://www.dti.gov.za/news2020/Guidelines_Masks.pdf
CONTRIBUTE TO THE SOLIDARITY FUND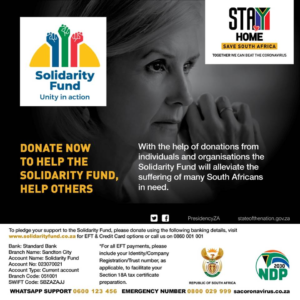 The purpose and mandate of the Solidarity Fund, announced by President Cyril Ramaphosa, is to mobilise and coordinate efforts and resources from all South Africans and the international community to assist the most vulnerable South Africans to deal with the impact of Covid19 and the consequences of measures intended to slow its rate of infection.
Details on how to donate are available on the Fund's website www.solidarityfund.co.za
FOLLOW US ON SOCIAL MEDIA
https://twitter.com/businessforsa
https://www.facebook.com/Business-for-SA-110191343959451/
https://www.linkedin.com/company/businessforsa
OFFICIAL GOVERNMENT REGULATIONS AND GUIDELINES ON COVID-19
All official government regulations and guidelines are available at https://www.gov.za/coronavirus/guidelines