South Africa will only be able to materially improve the lives of all South Africans and deliver on the promise of 1994 if we are able to kick-start, and sustain, high levels of inclusive economic growth
South Africa entered a technical recession last year and with the arrival of Covid-19 at the beginning of March 2020, it is clearly evident that the associated economic and social ramifications for South Africa are more severe than previously anticipated.
Business for South Africa (B4SA), established as business' response to the Covid-19 pandemic, expects GDP to decline by between 8% and 10% in 2020, recovering in the next two years to pre-Covid-19 levels, with muted growth thereafter.  It forecasts a budget deficit of 13.3% for this fiscal year. Meanwhile, government debt is escalating to record levels in both absolute terms and as a percentage of GDP. In the absence of growth enhancing structural reforms, budget deficits are expected to remain high and government debt is expected to exceed 100% of GDP in 2023 (vs. 26% in 2008), as annual budget deficits remain above 13% of GDP.
It is B4SA's view that the nation has arrived at a fork in the road. Protecting the status quo with only marginal changes locks in an accelerated downward trend, while a committed leadership willing to make difficult, though sometimes unpalatable choices focussed on appropriate policies, which enable investment and thus inclusive growth, can decisively improve the economic and social trajectory of the country.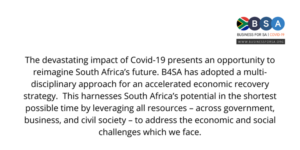 The devastating impact of Covid-19 presents an opportunity to reimagine South Africa's future, one which we all have to grasp. B4SA, representing the vast majority of South African business, working in partnership  and supported by a number of business associations, including the Association for Savings and Investments South Africa, the Black Business Council, Banking Association of South Africa, Business Unity South Africa, Business Leadership South Africa, and the Minerals Council of South Africa, has adopted a multi-disciplinary approach for an accelerated economic recovery strategy.  This harnesses South Africa's potential in the shortest possible time by leveraging all resources – across government, business, and civil society – to address the economic and social challenges which we face.
This unique collective can only succeed if all constituents work in unison to address these economic and social challenges.
It is B4SA's view that a coherent economic recovery strategy, which is clearly articulated as well as competently and efficiently implemented and led with visible urgency, will enable a new narrative to be established about South Africa's macro-economic potential and in so doing improve confidence, investment, inclusive growth and unemployment levels.   The work prioritises 12 key initiatives, from a list of over 50, some of which can be launched immediately, across 11 high-impact sectors.  B4SA has also identified 12 policy focus areas.
B4SA's detailed assessment identifies and addresses key issues and constraints, many of which predate this crisis, and which have now been exacerbated. It sets out recommendations and proposals which business, government, labour and civil society can discuss and, potentially, implement as partners in order to reset South Africa's economic and social development path, and to enable the nation to enjoy a better future.
The Covid-19 crisis represents an opportunity for all stakeholders to consider what is required for the country to move ahead successfully and with conviction. This will require ruthless prioritisation and difficult decisions. A new social and economic compact must be forged in parallel, and a cohesive plan will need to be jointly developed and implemented by government, business and other social partners. Committed leadership is needed to drive decisions to conclusion with speed.
The B4SA ACCELRATED ECONOMIC RECOVERY STRATEGY is being put forward as the basis for an intensive process of engagement, which we hope will lead to increased trust between societal stakeholders, and to a new form of partnership between government and business in pursuit of shared challenges.
To access the full B4SA Accelerated Economic Recovery Strategy please go to: https://www.businessforsa.org/economic/economic-relief-measures/
FOLLOW US ON SOCIAL MEDIA
twitter.com/businessforsa
https://www.facebook.com/Business-for-SA-110191343959451/
https://www.linkedin.com/company/businessforsa