There is no doubt that the combined effect of the Covid-19 pandemic and the Moody's downgrade will be devastating for the economy. Certainly, government's tax relief, the assistance for small business and other measures for companies in distress are welcome. However, it is going to take a lot more to deal with the ramifications of the Covid-19 pandemic and a downgrade.
Through Business for South Africa, organised business has mobilised to support government's efforts to keep the economy alive while launching an unprecedented response to an unprecedented public health emergency. It is essential to keep communications infrastructure functioning effectively, to minimise load shedding, to ensure that water and sanitation systems are bolstered, and that commuter transportation keeps working.
This all-in approach and the collaboration with government from every sector of the business community, is enormously refreshing and indicates that we are indeed stronger together. It is abundantly clear that we cannot possibly do this without leveraging all the resources of the business community and civil society.
Click here for a link to a Business Times interview with Martin Kingston, executive member of the Business for South Africa Steering Committee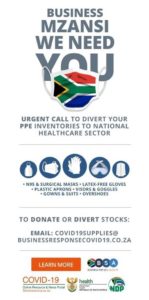 UPDATE ON LOCKDOWN REGULATIONS: A BUSINESS PERSPECTIVE
As South Africa marked day 7 of its 21-day national lockdown, government has announced revised regulations that govern this phase – all in a bid to flatten the Coronavirus infection curve.
Since Minister Nkosazana Dlamini-Zuma declared a national state of disaster on 15 March 2020, Business for SA (BSA) and its constituents have been working with business enterprises and government to support interventions required to flatten the COVID-19 (C-19) curve.  Following extensive feedback from stakeholders and engagements with government, BSA released a Guidance Note to promote clarity and compliance with the regulations and directions promulgated to regulate the national campaign against the C-19 disaster (the lockdown laws).
The implementation of the lockdown laws in the first week of the lockdown has not been without teething problems, and a degree of uncertainty about aspects of the lockdown laws remains.  BSA is engaging with government on an ongoing basis in an effort to enhance clarity and resolve problems.  BSA will periodically issue further guidance notes as the situation unfolds.
This guidance note does not purport to constitute detailed legal advice, which businesses are encouraged to procure if they are in any doubt as to their rights and obligations in the state of disaster.
THE GENERAL POSITION FOR BUSINESSES
The primary effect of the lockdown is a general closure of all businesses, retail shops and shopping malls and a mandatory order that "all businesses and other entities shall cease operations", with limited listed exceptions.  In essence, those exceptions involve the supply of essential goods and the provision of essential services.
All spaces for public gatherings, including parks, beaches, privately-owned venues and restaurants, churches, mosques and temples must remain closed for the duration of the lockdown.  Only persons rendering security or maintenance services are allowed to attend those places.  As it stands, therefore, conducting what may otherwise be classified as an "essential service", such as the sale of food, out of these listed spaces remains prohibited. [1]
In the public interest, we recommend strict compliance with the lockdown laws.  Economic loss and the potential consequences thereof do not render any product or service "essential" as envisaged in the lockdown laws.  Losses suffered by businesses as a result of the lockdown are being mitigated, and may to some extent be compensated for, through government relief programmes and other mechanisms already announced such as interest rate cuts, tax relief, access to the surplus of the Unemployment Insurance Fund and financial assistance from the Solidarity Fund.
Click here for the full Business for SA guidance note
SOLIDARITY FUND BOARD ANNOUNCED
The Solidarity Fund, established by President Ramaphosa will be a rapid response vehicle through which individuals and organisations will be able to support South Africa's mobilisation against COVID-19 through secure, tax-deductible donations. The Chairperson of the Fund is Ms Gloria Serobe and the Vice Chairperson is Mr Adrian Enthoven and will operate with the highest principles of corporate governance. All activities will be reported in a transparent manner.
Details on how to donate are available on the Fund's website www.solidarityfund.co.za
OFFICIAL GOVERNMENT REGULATIONS AND GUIDELINES ON COVID-19
All official government regulations and guidelines are available at https://www.gov.za/coronavirus/guidelines
OFFICIAL RESOURCES:
NICD website:                                         http://www.nicd.ac.za
COVID-19 information website:          https://sacoronavirus.co.za
Coronavirus 24-hour Hotline:              0800 029 999
Coronavirus WhatsApp:                        060 012 3456
Business for South Africa fully supports the decisive action taken by President Cyril Ramaphosa and the government to help mitigate the health, labour market and economic impacts of the coronavirus. As organised business, we are actively collaborating with government to use business resources and capacity to support public sector initiatives.
We have mobilised volunteer resources from across South Africa business bodies and organisations, member companies large and small, professional services firms as well as communication specialists, to form focused working groups that are driving a coordinated and proactive programme to mitigate the economic, social and health impacts of COVID-19 on South Africa.