Regulation 16(6)(b) of the Regulations in terms of the Disaster Management Act issued on 29 April 2020 places four obligations on each business, industry and entity in both the public and private sector which are permitted to operate during Alert Level 4:
1.              Covid-19 compliance officer
They must designate a Covid-19 compliance officer. This person should oversee the implementation of the Workplace Plan (see below), as well as adherence to the standards of hygiene and health protocols relating to Covid-19 at the workplace.
2.              Phased in return from other provinces/metropolitan areas/districts
They must phase in the return of their employees to work in order to manage the return of employees from other provinces, metropolitan areas and districts. In terms of regulation 16(4), workers who perform an essential or permitted service who have to commute to and from work on a daily basis between provinces, metropolitan areas or districts, must have a permit (Form 2 of Annexure A) to travel and perform such work.
3.              Measures
They must develop measures to ensure that the workplace meets the standards of health protocols, adequate space for employees (i.e. one person per 1.5 metres of floor space), and social distancing measures for the public and service providers, as required.
4.              Workplace Plan
They must develop a Workplace Plan for the phased in return of their employees to the workplace, prior to reopening the workplace for business. This Plan must correspond with Annexure E, and must contain the following information:
·       which employees are permitted to work;
·       what the plans are for the phased-in return of their employees to the workplace;
·       the health protocols that are in place to protect employees from Covid-19; and
·       the details of the Covid-19 compliance officer.
The measures that must be taken, and the Workplace Plan can be viewed on the Business for South Africa website at https://www.businessforsa.org/obligations-on-businesses-operating-during-covid-19-alert-level-4/
HAND WASHING IN INFORMAL SETTLEMENTS MADE POSSIBLE WITH SIMPLE SOUTH AFRICAN INNOVATION
Today is World Hand Hygiene Day. Yet millions of South Africans don't have safe or reliable access to it. Due to the central role of hand-washing in slowing the transmission of COVID-19, a small pilot project has been run in an informal settlement north of Johannesburg using a novel innovation manufactured by South African company Envirosan.
This simple hand-washing unit comprises a standard two-litre plastic bottle that is fitted with a self-closing tip tap valve. The bottle is placed into a wall-mounted plastic bracket incorporating a ribbed soap holder and peg to accommodate a face cloth or small towel.
With support from private sector donors and Godfirst Fourways Church's Heart of a Champion Africa programme, these units were trialled at two Johannesburg informal settlements. Approximately 700 people live in poverty within these communities, relying on communal standpipes and water tanks, often located some distance from their dwellings.
"It was very special to see the way the community organised where the units should be placed and who would have responsibility for keeping the bottles filled and looking after the soap," said Cliff Musamba who runs the Heart of a Champion programme. "They are deeply appreciative."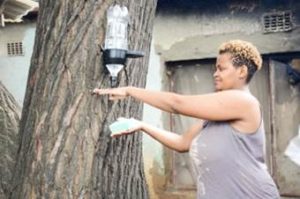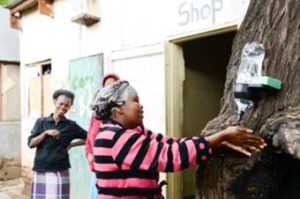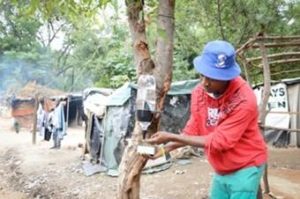 YOU CAN HELP A HOME WITH A HAND-WASHING UNIT FOR JUST R65
Each unit costs R65 and includes a bar of soap. Individuals, companies and faith-based organisations are encouraged to assist with the broader rollout by making a donation in the following ways:
EFT
All donations will be managed by the National Business Initiative (NBI) under a separate water emergency fund and will be entitled to a Section 18A tax deduction. The NBI is a registered public benefit organisation (PBO Number: 081-437-NPO) that administers funds on behalf of several programmes.
National Business Initiative
Bank: First National Bank
Branch: Main Street (251705)
Account: 5061 0022 803
Swift Code: FIRNZAJJ
Payment reference: P0551 and Company name
If you would like a Section 18A tax certificate, please email your details and proof of payment to: GillianH@nbi.org.za
INVITATION TO BUSINESS FOR SOUTH AFRICA WEBCAST
Level 4 restrictions, economic impact and progress update
PLEASE DISTRIBUTE THIS TO ALL MEMBER CONSTITUENTS, AND REQUEST THAT IT IS SHARED WITH DIRECTORS OF THE RESPECTIVE COMPANIES AND INSTITUTIONS
After the five week national lockdown the transition to level 4 restrictions creates some hope but also raises serious risks for the nation's health, the rule of law, business' survival and the individual livelihoods of many South Africans.
Business for South Africa (B4SA), an alliance of volunteers from across South African business bodies, organisations and member companies working with government and each other to combat Covid-19, invites you to attend its webcast on Wednesday, 6 May 2020 from 13:00-14:00 to examine these issues.
The webcast will include:
Economic impact of Covid-19 and the transition to level-4 regulations
Progress updates on B4SA's work in areas including: health, economy, labour and civil society
Commentary on the current level-4 regulations
Recommendations for the responsible, data-led and risk-adjusted restoration of economic activity
This will be followed by a short Q&A session. Questions are to be submitted through the webcast link.
Webcast details:
Date: 6 May 2010
Time: 13:00 – 14:00
Webcast link: https://themediaframe.net/10033553
Please log in few minutes before the start of the event.
We sincerely hope you are able to join us.
CONTRIBUTE TO THE SOLIDARITY FUND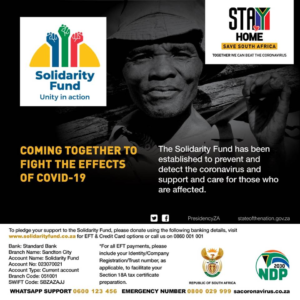 The purpose and mandate of the Solidarity Fund, announced by President Cyril Ramaphosa, is to mobilise and coordinate efforts and resources from all South Africans and the international community to assist the most vulnerable South Africans to deal with the impact of Covid19 and the consequences of measures intended to slow its rate of infection.
Details on how to donate are available on the Fund's website www.solidarityfund.co.za
FOLLOW US ON SOCIAL MEDIA
https://twitter.com/businessforsa
https://www.facebook.com/Business-for-SA-110191343959451/
https://www.linkedin.com/company/businessforsa
OFFICIAL GOVERNMENT REGULATIONS AND GUIDELINES ON COVID-19
All official government regulations and guidelines are available at https://www.gov.za/coronavirus/guidelines