INCLUDING INDUSTRIAL CLASSIFICATION SYSTEM
From 1 May, South Africa will assume Level 4 of the recently announced risk adjusted approach for the measured, phased restarting of certain sectors of the economy. Minister of Co-operative Affairs and Governance Dr. Nkosazana Dlamini Zuma and Minister of Trade and Industry, Mr Ebrahim Patel today launched a process calling for public comment on the document.
Level four is a continuation of the lockdown, but a phased return of the economy for certain sectors.  A phased return is an absolute imperative as the risk remains large for the spread of the Covid-19, and the effect of overloading the healthcare sector is significant.  Adhering to the conditions and procedures for level four is critical. Government has indicated that it will return to level five if there is a spike in the current trend of infections.
The document may be found at https://www.businessforsa.org/schedule-of-services-framework-for-sectors/
Please send comments to Business For South Africa at info@businessforsa.co.za by 3pm on Sunday, 26 April. We will be submitting a consolidated set of comments by noon on Monday.*
Permissions and Restrictions:
Source: www.gov.za
In determining workplace and sector openings, government considered four factors:
Risk of transmission and spread
Expected impact on sector of a full lockdown
Economic imperatives: GDP, jobs, export earnings
Promotion of community and well-being – i.e. livelihoods of the vulnerable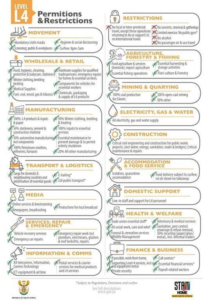 Businesses must have COVID-19 risk assessments and plans in place
Strict social distancing requirements remain in place. In addition to generally applicable health and safety protocols, each sector will agree on a COVID-19 prevention and mitigation plan, approved by Minister of Health and any other Minister relevant to the sector.
Individual businesses and workplaces must have COVID-19 risk assessments and plans in place, and will be required to conduct worker education on COVID-19 and protection measures. These plans must include:
Identification and protection of vulnerable employees
Safe transport of employees
Screening of employees entering the workplace
Prevention of viral spread in the workplace
Hand sanitisers and face masks
Cleaning of surfaces and shared equipment
Good ventilation
Shift arrangement and canteen controls
Managing sick employees
Companies and sectors that can return to work sites and areas are requested to continue allowing employees to work remotely, wherever possible.
Please send comments
Please send comments to Business For South Africa at info@businessforsa.co.za by 3pm on Sunday, 26 April. We will be submitting a consolidated set of comments by noon on Monday.*
The document may be found at https://www.businessforsa.org/schedule-of-services-framework-for-sectors/
* Please note the following in submitting your inputs:
The inputs must be on those sectors and businesses opened during level 4 of the crisis
Please look at the guidelines for input, towards the end of the document, and follow those
Please make your submissions in the form contained in the document, which you will see at the end of the document
Please send your submissions
Business for South Africa appreciates the very tight timelines for your submissions, but these are critical to enable us to engage government substantively on the proposed opening of sections of the economy during Level 4 of the crisis.
SOUTH AFRICA RECEIVES SIGNIFICANT PPE ORDER FOR FRONTLINE HEALTHCARE WORKERS
South Africa has received a significant order of personal protective equipment (PPE), which includes 2 million surgical masks and 216 000 KN95 respirators. This critical stock is intended for the sole use of frontline doctors, nurses and community health care workers, to protect them in their fight against the COVID-19 pandemic.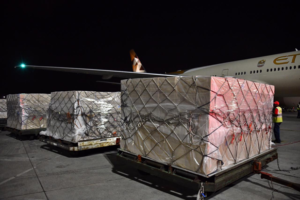 This order, which arrived on Thursday night, will be bolstered by a further 784 000 KN95 respirators and 550 000 surgical masks which will arrive in the country on Sunday (26 April) night.
The order forms part of a government-led centralised PPE procurement strategy that serves both the public and private health care sectors. This is led by the National Department of Health (NDoH) and the National Treasury's Office of the Chief Procurement Officer, working in partnership with Business for South Africa (B4SA), which is an alliance of volunteer resources from across SA business bodies, organisations and companies.
Click here for the full announcement from Business for SA: https://www.businessforsa.org/south-africa-receives-significant-ppe-order-for-frontline-health-care-workers/
SOLIDARITY FUND RECEIVES PLEDGES OF R2.6BN
PROCURES PROTECTIVE EQUIPMENT FOR FRONTLINE HEALTHCARE WORKERS
DISBURSES FOOD PARCLES TO VULNERABLE COMMUNITIES
The Solidarity Fund today on Thursday that it had received R2,6bn in pledges from tens of thousands of South Africans and has disbursed more than R1bn in critical interventions, such as the procurement of protective equipment for frontline health workers and disbursement of food parcels,  to help South Africa respond to the health and socio-economic impacts of the coronavirus.
"President Ramaphosa announced the establishment of the Fund on 23 March and we are pleased to report significant progress against our objectives," said Chair of the Solidarity Fund, Gloria Serobe. "What is astonishing is that around 1 000 businesses and more than 75 000 individuals have reached into their bank accounts to assist those most impacted by Covid-19. We thank each and every one of you."
The Fund is a rapid response vehicle set up to support the national health system, contribute to humanitarian relief efforts and mobilise South Africans to drive a united response to the coronavirus. It is independent from both Government and Business. CEO of the Fund, Nomkhita Nqweni said it was truly gratifying to see South Africans come together in response to the challenge.
"We would like to thank South Africans for their generosity and showcasing that we can indeed come together to make a difference. As an independent and agile organisation, we have been able to work together with stakeholders, from government to business, civil society and labour, to make meaningful interventions to support those provided by the state and other organs of society in a very short space of time."
The Solidarity Fund relies on the efforts of more than 75 individuals who have been deployed by 25 organisations or who have offered their services free of charge to help the Fund to fulfill its objectives.  None of the staff involved, including the Chair, CEO or board members receive salaries or payment from the Fund for their services.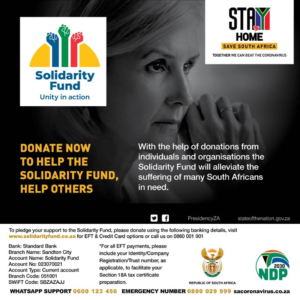 Governance and oversight
To meet the highest levels of governance and oversight, an independent board with oversight committees had been established, operations formalised and a governance and risk framework had been put in place.
"A principle and commitment that we live by as a fund is to ensure that there is transparency on all of our activities. Our website will soon be re-launched and this will be the central portal that will contain detailed information and daily updated information around pledges received, how we have allocated these resources, as well as the tracking and reporting of the impact we are having," Nqweni added.
Ernst & Young and ENS Africa have developed a governance framework to  guide the allocation of all funds. The Fund is independently administered by Old Mutual, and PWC has been appointed as the external auditor. These companies are all working on a pro-bono basis.
Solidarity Fund Board:
Ms. Gloria Serobe, Chairman of the Board | Mr. Adrian Enthoven, Deputy Chairman of the Board |
Dr. Ayanda Ntsaluba, Chair Disbursements Committee | Minister Ebrahim Patel |
Ms. Kgomotso Makhupola | Mr. Michael Katz | Ms. Nomkhita Nqweni, Chief Executive Officer |
Mr. Sizwe Nxasana, Chair Fundraising Committee | Mr. Thulani Tshefutu | Minister Tito Mboweni
Ms. Tryphosa Ramano, Chair Audit and Risk Committee
Click here for the full update from the Solidarity Fund https://www.businessforsa.org/solidarity-fund-press-release/
The purpose and mandate of the Solidarity Fund is to mobilise and coordinate efforts and resources from all South Africans and the international community to assist the most vulnerable South Africans to deal with the impact of Covid19 and the consequences of measures intended to slow its rate of infection.
Details on how to donate are available on the Fund's website www.solidarityfund.co.za
PLEASE PAY YOUR SMME SUPPLIERS
525 000 SMMEs and 6.6 MILLION JOBS AT RISK
The CEO Initiative, which was established in 2016 as a collaboration between government and business to address some of the most pressing challenges to the country's economic growth, has supported the call of Business for SA (B4SA) for all large companies to pay their SMME creditors.
To read the statement, please go to https://www.businessforsa.org/wp-content/uploads/2020/04/CEO-Initiative-Statement-Payment-of-SMEs-13-April-2020.pdf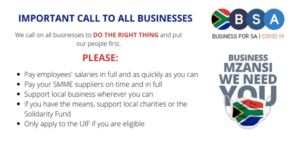 To find out about temporary relief for employers and employees through the UIF, go to https://www.businessforsa.org/c-19-ters-benefit-what-you-need-to-know/
FOLLOW US ON SOCIAL MEDIA
https://twitter.com/businessforsa
https://www.facebook.com/Business-for-SA-110191343959451/
https://www.linkedin.com/company/businessforsa
OFFICIAL GOVERNMENT REGULATIONS AND GUIDELINES ON COVID-19
All official government regulations and guidelines are available at https://www.gov.za/coronavirus/guidelines