INTERVIEW COURTESY OF RADIO 702, THE MONEY SHOW WITH BRUCE WHITFIELD
Martin Kingston from Business for South Africa was interviewed on Bruce Whitfield's Money Show on Radio 702 this week and called on government to restore people's capacity to earn in order to avoid social collapse.
"We think that we're on the brink here  – it's not a lives versus livelihoods debate, it's about addressing the fundamental issues that underpin society where we can give people access to nutrition, where we can be assured that they can deal with health concerns. Loss of income is linked quite explicitly to lower life expectancy, therefore we need to return the economy to full productivity as soon as possible"
Martin Kingston, Business for South Africa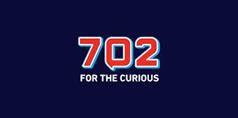 To listen to the interview on Radio 702, please go to The Money Show interview with Martin Kingston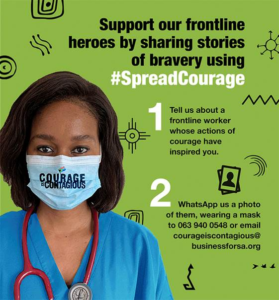 Do you know someone who has gone above and beyond in the fight against Covid-19? 
Someone who has inspired you through their courage? We want you to share their story! 
Let's pay homage to the nurses, doctors, police, medics, cleaners, testers, public servants and all the people who go out every day to fight for us.
Let's #SpreadCourage throughout South Africa!
Follow the campaign on:
FOLLOW US ON SOCIAL MEDIA
twitter.com/businessforsa
https://www.facebook.com/Business-for-SA-110191343959451/
https://www.linkedin.com/company/businessforsa
OFFICIAL GOVERNMENT REGULATIONS AND GUIDELINES ON COVID-19
All official government regulations and guidelines are available at https://www.gov.za/coronavirus/guidelines